Characters
News and Events
Visit our new Teen Titans Go! Fandom Wiki.
"Let's Get Serious" was the latest episode to air.
"The Rocky Road to Love" was the latest issue to be released digitally.
Teen Titans Go! Volume 1: Party, Party- From fighting pizza monsters to getting a job at a Silicon Valley startup, the first trader paperback of the Teen Titans Go! comic series will be released on March 10th, 2015.
Teen Titans Go! - Season Two, Part One: Appetite For Disruption has been announced to be released on April 2015! Pick up your copy to own the first twenty-six episodes of the season, following the Titans from teaching Blackfire to be a better sister to learning about the wonders of trash!
Check out the new Teen Titans Go! game, Titans Most Wanted!
Visit this page to discuss episode ideas for the series!
Like the new portal pictures? Thank Webkinz Mania for developing them!
Spread the wiki by sharing articles on Google+, Facebook, or Twitter!
Did You Know?
Flash animation (with fast turn-around) is used for the series due to the success of MAD which co-producer Aaron Horvath also works on?
"Thanksgiving" is the highest rated episode with 2.807 million viewers?
Terra and Aqualad will both appear in another episode of Season 2?
Hynden Walch tweeted about a speedster visiting Titans Tower?
An upcoming episode marks a crossover special with the Teenage Mutant Ninja Turtles?
About the Wiki

The Teen Titans Go! Wiki is a wiki dedicated to the Cartoon Network show, Teen Titans Go!, which first aired on April 23, 2013 as a result of the popular New Teen Titans shorts. The show follows a group of teenage superheroes known as the Teen Titans - which is composed of leader Robin, Tamaranian princess Starfire, shapeshifting Beast Boy, half-demon Raven, and half-robot Cyborg - who cause hilarious misadventures as a result of their relationships and powers (or lack of). The show is currently airing its second season. A third season is currently in production.
Upcoming
"Tamaranian Vacation"
The Titans visit Starfire's homeworld, Tamaran.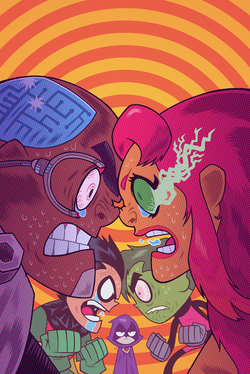 Issue 17/Issue 18
It's Titan vs. Titan in a no-holds-barred, winner-take-all...staring contest! In the end, it's Robin vs. Raven with the fate of the world hanging in the balance. Which will turn the tide: Robin's focused glare, whose intensity can rip through to the deepest core of a man's soul...or Raven's just not caring?
Poll